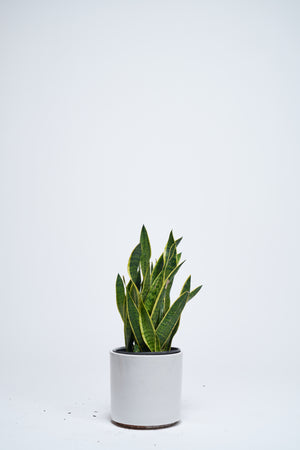 Sanseveria Laurentii
Back in Five
The Snake Plant Laurentii is a succulent plant characterized by its vertical, thin leaves with vibrant yellow edges and its toughness. Amazingly, the snake plant improves indoor air by removing toxins such as formaldehyde, xylene, and toluene. In some rare occurrences, this plant can flower, creating a beautiful sight and scent.
Sunlight:
 Thrives in bright indirect
to low light, and can tolerate very low light.
Water:
Water every 2–3 weeks.
Temperature:
60°F-85°F (15°C-30°C). It's best not to let it go below 60°F (15°C).
Size:
Indoors, this plant will reach an ultimate height of about 1m and will have a spread of about 0.35m.
More on this plant
ative to southern and central Africa. The Sansevieria trifasciata 'Laurentii' is a cultivar of snake plant with yellow edges. Despite being positioned as low light plants, they are actually medium to bright light plants that tolerate, but not thrive in low light. Like other succulent plants, they have a modified form of photosynthesis, where in order to preserve water, the plant opens its pores exclusively at night. However, since photosynthesis only happens with daylight, the plant stores carbon dioxide acquired at night for use during the day, and releases oxygen (one of the end products of photosynthesis) at night when the pores open. This helps it to maximize efficiency in cleaning the air.