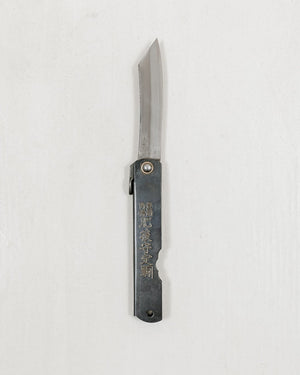 Niwaki SK Higonokami Folding Knife
Niwaki
$30.00
Regular price
$42.00
Traditional Japanese set folding pocket knife made by Kanekoma with a hand forged 3" folded SK steel blade.
The black nickel handle starts off shiny but soon mellows to a lovely rich patina. Quite a stiff action that loosens with time, and can be retightened with a sharp rap on the rivet with a hammer.
Wear it in the optional heavy duty leather belt sheath.
The Niwaki Higo knives are hand made by Kanekoma, 5th generation knife makers in Miki, down in Hyogo Prefecture. Founded in 1894, early knives were called higonokami because a lot of customers were from Kumamoto, an area previously known as Higo. In 1910 the name was registered, and only makers in the Miki region could use it, and Kanekoma are now the last of those makers.
Features:
43g
171 x 5 x 18mm
109mm folded length
70mm blades
SK Steel
Nickel handles
Made in Japan