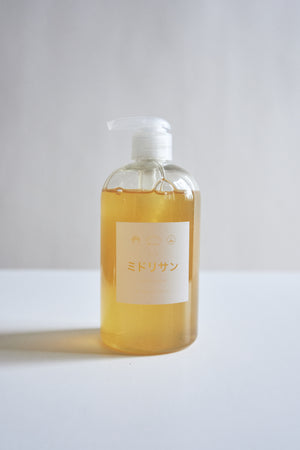 Mister Green Fragrance No. 2 Midori San Castille Soap
Mister Green
$18.68
Regular price
$26.16
Midori-San, the castille oil soap is a mellow every day 12 ounce body wash. Though also very multi-purpose, could be used for camping (meaning you could wash dishes or even brush your teeth with it– but do not ingest it!) or as a simple hand soap.
Mister Green Fragrance No. 2 - ミドリサン (Midori-San) is a perfume was made in celebration of the places where the idea and inspirations for "a friendly shop for high minded people" was born, and where it was cultivated.
The fragrance, with base notes of terpenes found in gas strains connote New York City's high power flower: sour diesel. The top notes of yuzu are in reverence of Japan where the citrus is used extensively in cooking, aromatherapy, and other practices. Additional hints of hiba, tobacco, and green flower varietals present a fresh scent that feels balanced for warmer temperatures. General notes: citrus, cannabis, softwood, tobacco, green flowers. Made by Maak Lab in Portland, Oregon.